When I sat down to write this post, I expected boring results. I wanted to write a post about Capital One Travel since Capital One Venture X Rewards Card cardholders get an annual $300 travel credit for travel booked via Capital One. I expected the Capital One portal to be reliably overpriced on hotels (which isn't a huge deal to me since I could use my travel credit on flights in a normal word). I was wrong. I tried a bunch of random stuff and while many hotels were not any cheaper through Capital One than through other channels, I was really surprised at how good the Capital One Travel Portal is in some instances, particularly considering the flexible cancellation policies. If you have a Venture X card or are thinking about getting one, check this out . . .
Ritz-Carlton Tysons Corner
A couple of months ago, I enjoyed a nice one-night stop at the Ritz-Carlton Tysons Corner booked via Amex Fine Hotels & Resorts. The Ritz came to mind to check via Capital One and I looked up a single night later this week.
For the night I tried, Capital One Travel showed its rate of $303 for the evening, beating Expedia by $6.
While not a huge savings, it did turn out that $303 was also $6 cheaper than the price through Amex Fine Hotels & Resorts. Obviously you'd get a $100 hotel credit, 4pm late checkout, and free breakfast for two via Fine Hotels & Resorts, making that a much better deal than Capital One Travel in this case.
Interestingly though, you could do even better. While the "standard" flexible rate is indeed $309 via Marriott.com, the "Member" flexible rate is $303 and the AAA rate, which is also flexible, is only $294.
In this case, Capital One didn't fare great because of the value possible when booking via Fine Hotels & Resorts. Truthfully, when comparing against Marriott, Capital One Travel did pretty well, matching the discount given to Marriott Bonvoy members over non-members. But the AAA rate was a bit better than booking via Capital One.
That said, a savvy Marriott Bonvoy member will know that even without an Amex Platinum card, one could probably book through Marriott STARS and get FHR-like benefits using whatever credit card they would like.
Park MGM
I next decided to set Capital One up for failure (sort of) with an MGM booking. I first wanted to see how Capital One compared to a booking made through "The Hotel Collection" from Amex since Platinum cardholders get an annual $200 rebate on either Fine Hotels & Resorts or The Hotel Collection bookings. I chose the Park MGM in Las Vegas during dates when I knew rates were cheap (for those who haven't been to Las Vegas in many years, Park MGM is the remodeled Monte Carlo).
Capital One showed a rate of $62 per night (which it said was $1 cheaper than Expedia) for a two-night stay.
Sure enough, The Hotel Collection also showed $62 per night.
It looked like the going rate for the dates I selected was indeed $62 or $63 per night.
I then logged in to my MGM Mlife account. I've always found far better rates when booking directly with MGM and this time was no different. I have MGM Gold status by virtue of matching over from Hyatt. While I was known to hit the blackjack tables now and then 15 years ago, I'm pretty sure I didn't even play a single hand of blackjack on my last trip or two to Vegas. I still get deeply discounted room offers.
Sure enough, I had an offer in my account for "up to one free night" at Park MGM. While none of the nights in the month I tried (September) were complimentary, the rate was indeed a lot cheaper at just $28 per night.
All of the rates above exclude the resort fee. When the new program launches on February 1st, I expect that I'd need to book direct through MGM to avoid the resort fee — at which point the gap in price with Capital One will only widen.
In fairness, this isn't really a knock on Capital One as my Mlife price is a targeted deal, but I included this example to remind that Las Vegas is often much cheaper via the casino loyalty programs.
Hotel Mela Times Square on New Year's Eve
New Year's Eve is where things really started to turn around for Capital One. Take the Hotel Mela Times Square for instance. I don't know anything about the Hotel Mela beyond the fact that it stretches the definition of "Times Square" in the same way that every other hotel within a 6-block radius of 42nd and Broadway does. On New Year's Eve, it's an expensive place to lay your head (as one would expect).
If you book directly through the Hotel Mela's website, you'll shell out $729 for a standard room.
If you book through Expedia without becoming an Expedia "member", you'll pay the same $729.
However, if you join the Expedia program, you'll get 10% off for a price of "just" $656.
Still too rich for your blood? Capital One's got you covered. They're charging $394 for New Year's Eve at the Hotel Mela.
And even on New Year's Eve and at that deeply discounted rate, the cancellation policy via Capital One is free cancellation up to two days before arrival. That's not quite as good as the free cancellation up to the day before arrival when booking directly via the Hotel Mela, but it's better than I would expect for a hotel in the vicinity of Times Square on New Year's Eve.
Crazier still, Capital One isn't giving themselves much credit for this deal. Whereas in many instances, they display a little green banner showing the total savings when they are even just a dollar per night cheaper than Expedia, they didn't mention at all on this listing that they were $262 per night cheaper than Expedia's members price.
Are you going to need to stay at the Hotel Mela on New Year's Eve for $394? Probably not, but the huge price discrepancy there is certainly interesting and means that there is even more room than I'd expect for Capital One to beat the traditional OTAs on indie / boutique hotels.
Hyatt Place Flushing / LaGuardia
While not as impressive a discount, this one surprised me even more than the Hotel Mela. I pivoted to New Year's Eve via Hyatt and I picked a hotel where you surely will not spend New Year's Eve unless your flight gets cancelled: The Hyatt Place Flushing / LaGuardia Airport. To be clear, that's not a knock on the Hyatt Place, it's just not the place to be on New Year's Eve (pro tip: the last time I stayed, I booked a parking space in the hotel's garage via either ParkWhiz or SpotHero for less than the hotel charges for parking).
What surprised me here is the rate that Capital One is offering and its cancellation policy. Capital One Travel shows this hotel for $331 per night on New Year's Eve.
According to the graphic in the bottom left of that screen shot, that's $39 per night less than what Expedia was charging (which I can confirm). I went to Hyatt.com and I could see that Capital One is offering a rate that matches Hyatt's Members Advance Purchase Rate.
See the cancellation policy on the $331 rate via Hyatt.com above — it is fully nonrefundable. Digest that for a second. A rate of $331 that you can't get back is the special deal Hyatt is offering just for World of Hyatt members who are willing to trade away flexibility for their members-only savings.
But those World of Hyatt members who value both saving money and flexibility should at least consider booking via Capital One. No, you won't get elite credit or benefits or hotel points, but you will get free cancellation until December 28th (and even if you cancel after that you're still not subject to losing 100% as it shows a $223.96 cancellation penalty).
I found that really interesting. I've often questioned the value in loyalty programs for those who primarily stay at limited-service properties like Hyatt Place where there are few loyalty benefits if any. If you're able to get the value of Hyatt's advance purchase rate without the punitive cancellation policy, booking via Capital One could certainly make sense.
That said, keep in mind that official Hyatt policy is now that free breakfast is only for those who book direct. Theoretically, you won't get free breakfast at a Hyatt Place when booking via Capital One (enforcement on that probably varies, but I haven't stayed at many Hyatt Place properties since that policy changed). Still, imagine the same scenario with a Residence Inn or Hampton Inn or other limited-service property where everyone gets free breakfast. Capital One could be a great option.
Four Seasons Abu Dhabi
This hotel came to mind because Greg and I had an excellent short stay there this past fall. The price difference here is tiny, but what is this sorcery? Sure, it's only four bucks, but Four Seasons is famous for not discounting their rooms. How is Capital One underselling them by four bucks?
Of course, your best bet on a stay like this is to do what we did and book via Fine Hotels & Resorts so you can get free breakfast and a $100 hotel credit.
Stay on a Thursday night. Get Friday brunch with your credit. Don't argue.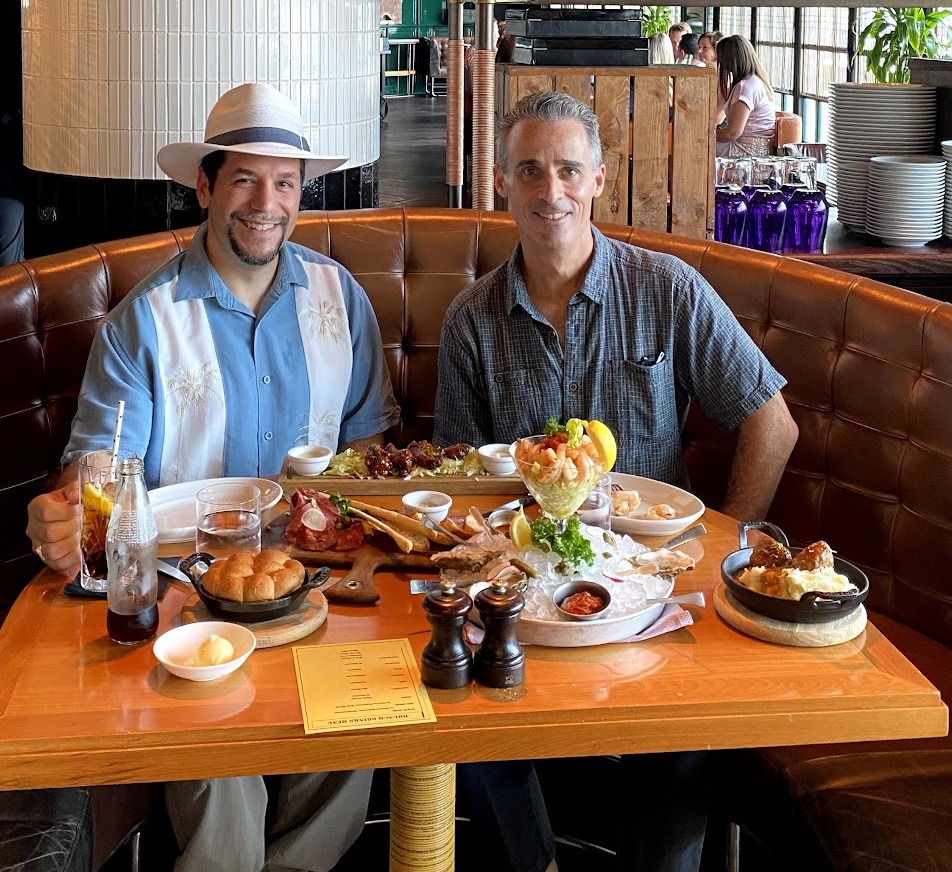 Ritz-Carlton Abu Dhabi
I pivoted from the Four Seasons to the Ritz-Carlton Abu Dhabi because I knew this hotel is often available pretty cheaply and I wondered whether Capital One would have an even better price.
In this case, Capital One yet again offered a surprising savings. The Ritz was just $147 via Capital One on my sample date.
At first glance, that only looks $3 better than Expedia.
However, the difference in cancellation policy once again makes Capital One much better. That $150 rate via Expedia is nonrefundable — you'll need to pay $177 through Expedia to have a flexible booking.
Sure enough, booking directly through Marriott.com, prices matched Expedia: $150 nonrefundable or $177 flexible. There was also a AAA rate of $150 per night that was flexible (I frequently use AAA rates specifically because I often find that they match advance purchase rates while also being flexible).
Capital One's rate was flexible, so it beat having a AAA membership by three bucks.
Unfortunately, I kept running into an error when trying to move to the booking page. I actually ran into this same error a whole bunch of times on Capital One Travel, which got kind of annoying. The site seems pretty buggy still.
And of course in this case you would once again probably want to book this hotel either via Amex Fine Hotels & Resorts or the Marriott STARS program rather than via Capital One for free breakfast and a $100 credit.
I mention the Marriott STARS program specifically because I know that the Ritz Abu Dhabi participates and it doesn't require any special credit card to book and get free breakfast for two (a benefit that nobody gets with status at a Ritz property) and a $100 hotel credit. Capital One does eat into the value of that a bit since you will pay $27 more per night to book the FHR or Marriott STARS rate, but the combination of free daily breakfast for two people and the $100 property credit balance that out unless you've got a long stay where that $27 per nigh will add up.
See more about Marriott STARS and other preferred partner booking programs here: Getting the elite experience without elite status via credit card and preferred partner programs.
Bottom line
While I wasn't aiming to cherry-pick properties for this post, my eye was obviously drawn to opportunities where I spotted savings. I skipped over many instances where the savings of booking through Capital One would only be a buck or two or where prices were merely equal. However, even a savings of a buck or two is a remarkable advantage over Citi's hotel pricing and is notable when you consider that most bookings appear to be flexible / cancellable. Overall, I am very impressed: in many instances, I wouldn't give up anything but elite benefits/credit by booking through Capital One. While I enjoy my hotel points and elite status, I'll be happy to use a Capital One Travel credit here and there whether for a limited-service property where benefits don't matter much or one of the outliers where Capital One comes out far ahead.